Kosha chicken is a spicy chicken recipe from the Bengal region. Usually a whole chicken is used and in western countries a Cornish hen is suitable for this preparation.
Ingredients: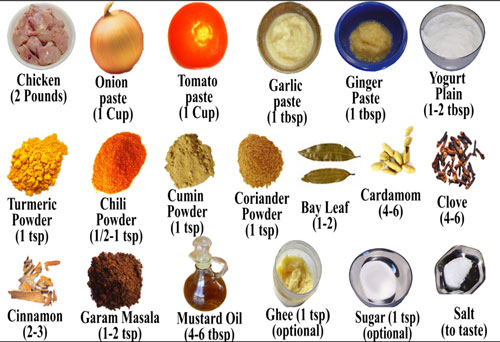 Preparation time: 45 minutes
Serves: 4 people
Procedure:
1. To the cleaned and washed chicken meat:
add onion paste, garlic paste, ginger paste, yogurt, turmeric powder, red chili powder, cumin powder, coriander powder, salt, mustard oil
2. Then marinate the chicken well with all the ingredients. And cover.
3. Set aside for 10-20 minutes minimum. Several hours would be better but overnight marinating is best.
4. Turn on the stove with a pan on it.
5. Spread the oil in the pan.
6. When the oil is hot, add the bay leaf, cardamom, cloves, cinnamon sticks.
7. Stir.
8. When the spices crackle, add the marinated chicken.
9. Stir
10. Let the meat cook with occasional stirring to make sure it does not burn
11. After about 10 minutes, add the tomato paste, and mix.
12. Cook for nearly half an hour till the oil separates out and most of the water has evaporated out.
13. Add the garam masala and the sugar. Sugar is optional.
14. Stir.
15. Add ghee.
v16. And mix.
This completes kosha chicken preparation.
Serve kosha chicken with chapatti, luchi or hot steamed rice.